Diagnostic Tools Provided at Our Emergency Animal Hospital
Our team at Pet Emergency Center, in Missoula, offers a wide array of in -house diagnostic services for your pet. These diagnostic tools help ensure your pet's health is precisely tracked to keep them fit and disease-free. Our tests also help us to figure out if something is wrong with your pet's and determine how it is best treated.
Why Does My Pet Need Diagnostic Tests?
The best way to comprehensively analyze your pet's health beyond what can be seen on a physical exam is to run standard diagnostic tests. Emergency diagnostic tests ensure that your pet is stable and does need emergency medical or surgical intervention. Effective treatment cannot occur unless thorough diagnostic tools are provided.
Fecal Exams
We often recommend that pets have a fecal examination. This helps us maintain a proper understanding of your pet's current health and detects any intestinal diseases or parasite infections. The presence of mucus or blood in the fecal sample is a clear sign of a health problem. Once this is detected, our veterinarians can initiate treatment to help your pet. If you notice any abnormalities with the stool we recommend that you bring a fecal sample with you so that it can be analyzed.
Urinalysis
Many pet diseases are easily detected in urine samples. Examples of such diseases include diabetes mellitus and bladder infections. We recommend a urinalysis test if your pet is experiencing any changes/abnormalities in urination or water consumption. We recommend collecting and bringing a urine sample with you to save time.
Blood Tests
Blood tests offer health data that can only be accurately discerned by analyzing your dog's or cat's blood. CBCs let us track your pet's white blood cell count, red blood cell count, and platelet levels. We will also check that your pet's blood cells are shaped correctly and functioning properly. Blood tests can also tell us about your pet's immune system and oxygen levels. Chemistry panel blood tests analyze kidney as well as liver function, blood protein levels, blood sugar levels, electrolytes and more. We carry blood tests for heartworm and tick disease screening, feline leukemia and feline immunodeficiency virus, canine and feline pancreatitis, antifreeze ingestion, mouse or rat bait ingestion, ketosis, blood lactate levels and more.
Blood Typing and Blood Transfusion Tests
We also carry tests useful for blood transfusions such as blood typing kits and crossmatch kits. These tests help us to screen our blood donors and blood recipients to make sure that we have an appropriate match and avoid potentially serious blood transfusion reactions. Dogs have two major blood types with multiple subtypes while cats have three major blood types.
Ultrasounds and X-Rays
To fully understand the extent of your pet's condition, we may recommend x-ray and ultrasound tests for closer analysis. We use ultrasound waves to create real-time images of the animal's body part, showing tissues and organs in detail. We also use x-rays to check for bone or other internal injuries. Both X-rays and ultrasound tests are noninvasive and safe methods for checking your pet's health.
Endoscopy
When a pet swallows a dangerous object like a fish hook, battery, rock or just about anything you can think of, surgical removal is often necessary. However, some objects can be removed via endoscopy which will allow for a faster recovery time with no surgery to recover from. Endoscopy is also helpful when removing objects from hard to reach places such as the esophagus. If your pet has swallowed something that they shouldn't give us a call to discuss if Endoscopy may be the best tool for the job.
Eye Tests
Eyes are sensitive organs and require specialized tests. We utilize fluorescein stain to check eyes for corneal abrasions, lacerations or scratches. The Schemer Tear Test is a test designed to test tear productions and identify conditions that lead to red, irritated eyes from a lack of tear production. Checking intraocular pressure of the eyes themselves helps us to rule out glaucoma -a serious increase in internal eye pressure that leads to blindness.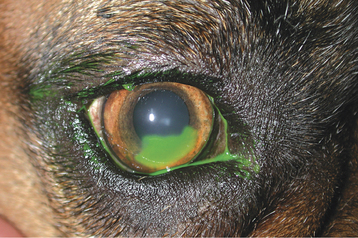 Physical Exam
The oldest and most basic of all diagnostic tests is the physical examination. Although we have many advanced tests to offer we will also rely heavily upon our experience and what we can determine from a physical exam.
Contact Us for Emergency Vet Care in Missoula
When you visit Pet Emergency Center in Missoula, we ensure your pet is provided the care he or she needs to stay healthy and happy. Our veterinarians are knowledgeable and compassionate about helping your pet. If your pet needs help please contact us right away at (406) 829-9300.
Once we determine what diagnostic tests are appropriate for your pet we will provide you with an estimate of the costs for those tests. You make the final decision as to what recommended diagnostics will be performed on your pet.
Pet Emergency Center is located in Missoula, MT, on the corner of North Ave. and Reserve St. We are two blocks north of the Rosauers grocery store, directly across from CS Porter Middle School.